Our guestbook shows a small sample of reviews we have received from our clients over the years. We know it's quite difficult to find reviews of travel agencies, so hopefully this will help. We've had clients from more than 35 nationalities and 6 continents... USA, Canada, Argentina, Brazil, Chili, South Africa, the Netherlands, Belgium, Germany, France, Denmark, Norway, England, Ireland, Wales, Malta, Lichtenstein, Japan, Australia, New Zealand, India, the Philippines, Poland, Spain, Portugal, Russia, Italy, Georgia, Switzerland, Romania, Uganda, Sweden, Finland, South Korea, Austria...
If you would like to add your experiences, please send us an email and a photo and we will add it below.
Cape Town to Victoria Falls
The adventure went very smooth, no unlucky surprises, only positive feelings and importantly aftertaste. That was a big experience to remember!
I also had no regrets about the camping option I took. It was to a great extent due to this very point that I got the anticipated level of emotions.
Thank you again for all the assistance and coordination you provided in the beginning) I will do my best possible promotion of the ShapShap Travel's services at home!
Kind regards and best wishes,
Nikita, Russia
Kilimanjaro + Safari + Zanzibar
Holy shit. Where to begin???? Thank you??? I am still reeling from the trip of a lifetime. I would have written you sooner, but I have a hard time reconnecting to the matrix after a trip off the grid...and I always take full advantage of living off the grid when I can. Everything was perfect. I don't know if I had any expectations for this adventure, but it's safe to say that any expectations I may have had were surpassed. We always felt well taken care of--from the people, to the food, to the accommodations--I couldn't have been happier.
To begin--We were picked up right on time from the airport in the middle of the night and delivered to the beautiful African View Lodge. This place felt like our home away from home before and after the climb.
I have to say...I think that Kili gave me more than I bargained for on that last night, but we did it! Many thanks to our fantastic guides and team. Those men are something special. Saidi and Habibu (our guides) were as much, if not more, of an impact on my journey than the mountain itself.
The four of us women certainly had some absolutely ridiculous, memorable, hilarious, arduous, and fulfilling moments to last a lifetime. I just can't say enough about what goes into getting four people up that mountain. I really enjoyed hearing how it's changed over the years, and all the details that go along with it. The food was amazing. I especially looked forward to the soup every day. We all shared so much in that week--culture, music, the night sky, Swahili and English words and sayings, jokes...it was everything. Oh, and ditto what Corrie said about the extra day to acclimate--so incredibly worth it. It's hard to imagine cutting that extra overnight. THE TOILET!! We owe you our next born children for that luxury :) Seriously--thank you so much. What a surprise. I didn't even know that was a thing...and then I can't tell you how many times we praised your name when we saw the peons sharing the community toilets ;)
Once that leg of the journey came to an end, we still had so much to look forward to. I was fortunate to come down to my guys waiting at the Lodge...and a hot shower! Very shortly thereafter we were met and briefed for the next day's safari. This was the portion of the trip that I was most eager for, and it delivered. I can't choose a favorite among the parks. I loved Arusha National Park, Tarangire, Lake Manyara, and Ngorongoro all for what they had to offer. Like Corrie said, we had an elephant visitor greet us in camp at Ngorongoro--that was wild.
Following the safari, we were happy to head to Stone Town and the beach (and beds:). If I had one wish, it would be to have had a little more time in Stone Town. It was magical for me. The evening was perfect--the energy on the water at sunset was jubilant and the hotel was AMAZING. Definitely the most beautiful and unique hotel I think I've ever had the chance to enjoy. The rooftop dinner was gorgeous just after sunset, and the following morning we spent walking through some close by shops.
Matemwe Beach Village was a quiet little dream. We nearly had the place to ourselves, and it was the perfect way to unwind at the end of the journey. I appreciated the resort location being where it was--further from the hustle of the busier beaches from what we gathered. The food here was beyond fantastic.
All in all I'm struggling to move past this holiday--I never wanted it to end! I'm happy to be home in my bed, but Tanzania holds a very dear place in my heart. Chris and I can't wait to go back to Africa again sometime and enjoy more of what it has to offer.
From the bottom of my heart, thank you for all you did for us. Everything was so well thought out and purposeful. I hope none of your hard work went unnoticed, because I felt very fortunate to have had you behind the scenes.
THANK YOU! I have a million godzillion more photos to share, but this email was too big to include any more:)
Asante sana!
Janna, USA
Kilimanjaro + Safari + Zanzibar
Jambo! I don't even know where to begin, Japie...thank you doesn't seem to be enough. We had an amazing experience. The climb was definitely a challenge, and we were all very grateful for the recommendation for an extra day to acclimate, but so awesome. Our guides were wonderful, and all the guys took such good care of us. And the private toilet! A luxury we were not at all expecting, but were so so grateful for. Thank you. :)
Safari was very cool...we had an elephant in our camp at the Ngorongoro Crater, so thanks for arranging that, too. ;) It exceeded all expectations. And our accommodations in Zanzibar were great...and the perfect, relaxing ending to our holiday.
Thank you! Asante sana!
Corrie, USA
East African Adventure
I had a great time on tour! Every day was amazing; the safaries, Zanzibar, the people of Malawi, and I especially want to complement Norman and Fudz, our tour guides. They knew everything about the countries, they solved every issue, the food was delicious and they took good care for us.
Thank you so much for offering this tour and all the information that you gave me. My Africa trip wouldn't be the same without it.
Best regards,
Angelique, the Netherlands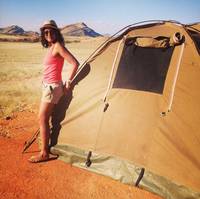 Desert Explorer
I have to tell you that my trip to Africa was absolutely amazing. I have enjoyed fully the experience and if I have the chance I will take part of other tours that you organize.
Thank you very much for your time and availability to make sure my holidays would be fine.
Take care and speak to you soon for a following trip!
Yuneza, Portugal
Cape Town to Vic Falls
Indeed, the adventure is finished now and we're back to our lives, but fortunately this has been a wonderful experience. We'd like to thank you for recommending us this trip. The balance of landscape view, people, culture, nature and animals (we got to see the big 5!) is perfect. Our guides, Tawanda and Allan showed awesome organization skills, lot of knowledge and Allan's meals were great.
Considering that we had been waiting for this kind of trip for several years, you will understand that expectations were very high so personally I was a little bit afraid of being disappointed. I am glad to say that several times during the trip I felt like making a dream come true which is a fantastic feeling. What we liked most is that every single day was different from the previous one. Full of activities and things to see and do which left us exhausted every night. The tents were good but the few nights on a bed that we spent were a bless Again a big thank you for helping us to arrange this trip. We don't know when yet, but definitely this won't be our last time in Africa.
Omar and Yulia, Spain and Russia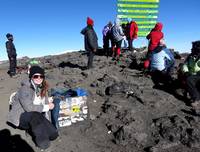 Kilimanjaro climb – Machame route
I felt on top of the world standing on the 'Roof of Africa'. The sunrise and glaciers at the summit were breathtaking and well worth the challenging times to get there! It was a very rewarding experience that I will never forget!
Thank you guys for providing a fantastic team & a memorable experience.
Kellie, Australia
East African Adventure
It was WOW! Serengeti was definitely my personal highlight, so many animals so close. But also the rest of the tour was quite impressive to me, people, landscape and animals. I was a bit surprised by the others in the group, mostly couples and at tour start I was the second youngest. But that did not matter, it was so much fun with the others. Crazy guys. I am still under 'shock', so many impressions coming to my mind all the time. It is a bit difficult for me to put these three weeks in a few words I did not manage to check all the photos yet, just the ones from Serengeti.
I certainly will be back to Africa, yet I do not know when, as my next travel plans are Israel, to visit a girl from the group who offered to show me around, and Northkap in Norway by bike. Mosambique, Uganda, maybe Kili are on my mind at the moment, maybe next year.
Chris, Germany
Kilimanjaro climb – Machame route
From the start I set out to enjoy every step on the mountain and to not just set my sights on the summit. The trek, the camps, the food, the crew, the mountain with all its surprises – everything was better than we hoped or asked for. I will cherish this experience with Paul forever. We went through lots of emotions- we were silly, we were deep, we laughed, we cried all the while being so grateful toward our Heavenly Father for our health and the financial ability to make this possible and above all for His wonderful creation just for us to enjoy.
Thank you for arranging an unforgettable experience.
Marina en Paul (mother and son), South Africa
Kilimanjaro climb – Machame route
I reached the top at 06:20 and I have my certificate. I have locked the whole experience in my head. Everything was perfect and I was even asked by Achiem if I would like to be a guide one day because of my enthusiasm. Maybe something for later. Of course lots of my friends will ask me about my climb and of course I will get them all in contact with you guys.
It was a spectacular experience!
Najim, Belgium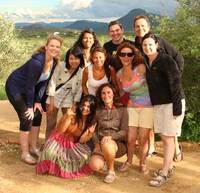 Windhoek to Victoria Falls
I had the trip of a lifetime from Windhoek to Victoria Falls. Everything was well organised, we had plenty of opportunity to meet locals, get to know something about life in the bush, and see the breathtaking wildlife action and landscapes that Africa is known for.
Our tour guides, Amen and Shingi were awesome, the help I got prior to booking was excellent, and I would recommend it to any of my friends.
Cathy, the Netherlands
Kilimanjaro climb – Machame route
We loved Kilimanjaro! The team was stunning and the mountain something never to forget. The guides, porters, chef and waiter all gave 110% to make this an unforgettable trip. You will always be mentioned with a smile when we brag about our achievement and when we show our photos.
Once again, Japie and Lizza, get a 10/10!!!
Thank you for a wonderful trip!
Maryke and Janette (sisters), South Africa
Explore South Africa
We had such a beautiful and adventurous tour, saw so much and did so much. We look back now and can't imagine how many things we did- so cool. South Africa is incredibly beautiful and it felt a little bit like a homecoming. Now we even feel a bit weird being back in Holland. We keep on telling each other with a laugh- hey, let's just go back!
We had a great time and we would like to thank you again for everything.
Everything was GREAT!!!
Jeroen en Marieke, the Netherlands
Zambia and Malawi
As hoped for, we've had an unforgettable and amazing experience with a great group of people again: Starting at the impressive Victoria Falls in Zimbabwe, we continued watching lots of wild animals in Zambia (even directly to our tents!), went snorkeling and swimming in Lake Malawi and saw the Tanzanian landscape and people.
Steffi & Thomas, Germany
Explore South Africa
The group and guides were amazing. It was great fun. South Africa is really beautiful and the nature fabulous. The African people are very friendly- awesome!! We had great experiences in Townships, different villages and not least the Kruger Park.
Thank you for planning an awesome trip for us- we loved every minute and will definitely book with you again next time.
Pia and Trine, Denmark
Discover Mozambique
Great group of people, good energy, fantastic tour guide and stunning African landscapes made this trip truly unforgettable experience. One of the greatest advantages of Mozambique tour is an amazing variety of landscapes and experiences from bushwalk in Swaziland, snorkeling with whale sharks and horse riding on remote beeches in Inhambane to amazing wildlife experience in Kruger National Park.
We had absolutely fab time )))
Ewa and Piotr, Poland
Discover Mozambique
I loved all the different landscapes, the KRUGER PARK, the beautiful days in BAZARUTO it's like a paradise, we saw dolphins and dougongos, snorkeling in the ocean, and some really adventurous activities: swimming with the whale shark, all the animals in the wild, on one of our bush walks in Swaziland we met some rhinos!
If you want adventure you'll have!
Sara, Italy
Best of Namibia
We had a super tour with our whole family. Words cannot describe the beautiful nature (desert, dunes, ocean, wildlife) that South Africa and Namibia offers and it has left a lasting impression on us all. Of course it was too short!!!
Your organization, the group, the guides, the route and catering all get 10 out of 10!
Henri, Elise, Arthur, Victor, Marthe, Nicky and Jan (family), Belgium
Cape Town to Vic Falls
I have just sorted through my photos- all 2800 of them and each one better than the one before! We saw so much and it was just amazing and something we will definately do again. The first week in Cape Town was also great. I normally dont say this about a city, but Cape Town is just beautiful!
We certainly recommend this tour to anyone who loves adventure, nature and animals!
Andreja and Arthur, Belgium
Kilimanjaro climb – Marangu Route
We had a great time climbing Kilimanjaro! We had wonderful views all over the mountain and everything was well organized at the huts. We made it all the way to the top, but we didn't stay long- it was freezing cold and our guide had to take some pictures for us- we were exhausted!
Everything went according to plan and we want to thank you very much for organizing this great adventure for us. Really Super!
William & Cathelijn, the Netherlands
Namibia and Botswana
Everything was wonderful, it was more than I expected, the tour, campsites, facilities, especially food, and really wonderful guides:))) I so much enjoyed everyday- EVERYDAY! Thank you once again, I was really prepared for tour and it was because I had all informations from you.
And… normally companies do not care about clients as long as they pay, you are exceptional :)))
Salome, Georgia
Cape Town to Vic Falls + Kruger + Mozambique
When I planned my 40 day trip through Southern Africa I never even thought about the importance of having a good guide, but I was very lucky to have Japie as my guide and I know for sure that I will go back to Africa. We always arrived first at all the highlights, we got the best campsites, first to the top of the dunes, the river, the cave… everything was simply brilliant!!!
Daniel, Spain
Desert Explorer
I had an amaaaaazing time on the tour! I didnt want to come back, but I had to… was sad to leave I was not sure if I was going to have a good time going alone on a tour, but at the end I was so lucky to have great people from all over the world in a group with such a good energy! I just wish I could have stayed with them all the way to Vic Falls.
Everything was perfect and the desert is simply breathtaking!
Samantha, Brazil
Kilimanjaro climb – Marangu route + Safari
We were very well trained for Kilimanjaro and we have some experience with mountain climbing. I thought Kili would be an easy mountain to climb, but I had never been that high before and I didn't realize how tough it would actually be. I have done lots of things in my life but this was by far the toughest ever. Yvonne couldn't continue past Gilman's Point (5685m) but I tried to push a little further. Eventually I also turned back. It was tough!!! Maybe we didn't take enough time to acclimatize or maybe it has something to do with the fact that we come from below sea level… maybe we are just trying to find an excuse because we saw people much less sporty than us that did make it to the top.
At the end of the day we still thoroughly enjoyed our Kili adventure and the safari afterwards. If any of our friends want to follow in our footsteps we would certainly recommend ShapShap Travel! It was great!
Renier & Yvonne, the Netherlands
Best of Namibia + Cape Town
WOW, what an incredible African experience! This tour definitely surpassed any expectation we had– the guides were incredibly warm and welcoming, the food was fantastic, gorgeous landscapes, exotic wild animals, and not only all that, but we felt like we learned so much about the people, culture, history, flora and fauna along the way. Even with my mother's severely limited photo taking skills, our pictures look like they are straight out of National Geographic!
Thank you Japie and Lizza for planning such a wonderful trip for us!
We look forward to planning our next African adventure with you.
The Din Family, USA
Tanzania 4×4 Safari + Zanzibar
We loved the personal attention from ShapShap and everyting was perfectly organized – and for a great price. We saw lots of animals during our safari- even some hyenas and warthogs around the campsite at night! One of the many highlights was swimming with a group of 20 dolphins…
We had an unforgettable experience!
Remko & Ilona, the Netherlands
Cape Town to Vic Falls + South Africa Fly Drive
Whether you are looking for ShapShap Travel to map out a budget road trip for you and a friend or you want a complete guided tour- Japie is your man! He is a very knowledgeable guide with an always positive attitude and he has a fun accent too! I have had Japie as a guide and also had him make me a road trip through South Africa with 2 friends!
I highly recommend Japie and ShapShap for your travel adventure bookings!
Janelle, USA
Cape Town to Victoria Falls
Especially Dune 45, meeting the Himba tribe, Etosha safari and Victoria Falls were real highlights! We enjoyed it so much!!! We saw about 20 lions- unbelievable! Also 1000s of zebras and springboks. Of the big 5, we only missed the leopard but that is just one more good reason to go back to all these beautiful countries!
Thank you very much for your interest and the great organization!
Niels & Merel, the Netherlands
Cape Town to Vic Falls + South Africa Fly Drive
Africa is a beautiful continent, full of mystery and wonder. Thank you for organizing this incredible journey for us. Your attention to detail and concerned that everything went smoothly made for a happy trip.
We will spread the word of the great customer service and your fantastic organizational skills to anyone interested in visiting the African continent.
Magda, USA
Namibia and Botswana
During my trip to Africa I experienced soo much- desert, delta and waterfalls, camping, bushwalks, game drives, flat tire, campfire, good food, 10 nationalities in one truck, almost the big 5 (no leopard, but we did see cheetahs), lots of animals with babies, a mokoro trip, Bushmen and Himba tribes, great atmosphere, quad biking, rafting and really good interactions with the locals.
I would like to thank you again for all the help and a special word of thanks for your personal attention, even a SMS on the road. This shows that your hearts are in your work and for all the travelers that book with you. It is just another reason why my next trip to Africa will be with you again.
I had a really fantastic time!
Germa, the Netherlands
Cape Town to Vic Falls + Kruger
What can I say? I had no idea what to expect, but the whole trip was totally stunning! I experienced what I thought you can only see on the television. For me this tour was life changing! I travelled alone and I couldn't have wished for a better company to take me to all the beautiful places in Southern Africa. What I totally didn't expect was the great quality of the food and the guides.
This was my first experience with overland travel and I was really amazed about everything and how smooth you can travel in rural areas. The best part was the diversity of the tour. We went from the desert to the savannah and into the 'jungle', saw totally different cultures and experienced wildlife I could only dream of.
Japie and Lizza thanks a lot for this never to forget experience!
Matthijs, the Netherlands
South Africa Fly Drive
After an amazing tour with you through Kenya and Tanzania we also had to see and experience South Africa for ourselves. You were right- it is the whole world in one country.
Everything was just great – the nature, the animals, the people and of course the food!!!. The only problem was that 3 weeks is not long enough;) so we will go back for sure.
We really appreciate all the extra info and tips you gave us and we saw places that we otherwise would have missed. You really do your name ShapShap (Good Good) proud. Thank you very much for everything.
And now we have to start planning our next African adventure…
Hans & Willy, the Netherlands
Best of Namibia
On the tour from Cape Town to Windhoek I really experienced some of the most beautiful moments I ever had. Pure nature…animals sooo close you could almost touch them (for me the lions!)…deserts so mysterious…just endless stunning wide open spaces!
My group was great, we had sooo much fun! I loved this tour!
Julia, Germany
Kilimanjaro climb – Machame Route
It wasn't as difficult as I thought it would be, but that is partly because of the guide- Rayson- who took great care of me. He realised that I came from sea level and that I needed more time to acclimatize. So everything was done pole pole (slow slow in Swahili), I would say pole pole pole ;-). Like I said the whole team (6 in total) were very professional and they had everything under control from the tents to the meals. I am very proud of us all.
So guys, this has truly been an experience that has changed my life in so many ways.
Thanks again for everything, I really appreciate it.
Arianne, the Netherlands
Desert Explorer
Japie as the tour guide, Namibia and a great bunch of people from all over the world – and it doesn't get better than that! I had the best time of my life during the 8 days from Cape Town to Swakopmund.
I wish I had stayed with them to Vic Falls. When I'm going to Africa again I'll go for a trip with ShapShap Travel – that's the way to travel!
Louise, Denmark
Cape Town to Vic Falls + Kruger
After studying in South Africa, my friends and I decided to travel and see what we could of Africa. We ended up experiencing all highlights of Southern Africa and lucky for us, Japie himself was our tour leader and there was definitely NEVER a dull moment.
If adventure and fun is what you're looking for, but you don't want to have to worry with finding the best tour companies and unbeatable prices then you've come to the right place!
Andrew, USA
Namibia and Botswana
The tour was a new experience for us and definitely a slightly different way of spending our holidays, but we both are happy that we decided not to do a standard 'lay-on-the-beach' holiday, but experience something more exciting. We never saw and felt nature so close and could enjoy the different facets of the wild. Seeing nearly all of the animals we used to know from the television was an absolutely wonderful and often very exciting experience, especially when you find a Lion eating its prey in about 30 meters distance during a walk through the Delta….
Since we started in the desert and ended up in the nearly rain-forest like environment close to Vic Falls, we also had the chance to get to know very different pieces of African nature, and we both agree that we'll come back sometime to get more of this. Since we had such a great time we want to thank all the other guys that made the trip a really fantastic experience, especially Japie as guide with his team, who helped us having not only a good, but great time down there!
Christian & Nina, Germany
Desert explorer
Great logistics, dynamics and AWESOME people… The group was amazing and everyone felt comfortable since the first day. I would recommend this trip to anyone with an adventure oriented mind.
I had one of the best times of my life!!
Un abrazo
Pepe, Venezuela
Cape Town to Vic Falls
My best friend and I had such an amazing and memorable experience. I'm a huge lover of animals so being on Safari was a lifelong dream for me. Our guide Japie was fantastic- he was knowledgeable, entertaining, knew how to cope with hiccups like flat tires or elephant crossings(!), and made the whole experience that much better!
I would recommend people to get out there for a real brush with nature and wildlife in Africa!
Katie, Canada
Swakopmund to Windhoek
I traveled with a great group of people for only a week but it was definitely the best vacation of my life! I wish I could have stayed for longer because the trip was amazing and interesting every single minute and it makes you want to come back… Trust me!
If want to experience Africa, see wild animals, enjoy the African sun, meet people from all over the world, then you should absolutely travel with ShapShap Travel.
Stefanie, Germany
Cape Town To Vic Falls
Wow- I knew it would be an experience, but this trip was completely beyond my expectations. This is really the perfect way to explore Southern Africa if you are up for an adventure and want to get a feel of the real Africa. Our group travelled together like one big family, the guides were professional and fun to hang out with and camping in Africa is the most amazing experience. From hiking up Dune 45 in Namibia at sunrise to exploring the Okavango Delta in Botswana by traditional mokoros, it is difficult to choose a favorite moment from the tour.
Loved every minute and will definitely go again.
Ditte, Denmark
Vic Falls to Cape Town
Travelling through Southern Africa in a big overland truck, camping out in tents and sharing the experience with people from all over the world was in one word – GREAT!!! We definitely recommend this tour to anyone.
We loved all the different landscapes, the massive dunes in the oldest desert on earth, Fish River Canyon, the Okavango Delta and of course all the animals in the wild! On one of our bush walks in the Delta we even had to run away from some elephants!!! We had a great laugh, but only afterwards!
Looking back, it was really the adventure of a lifetime and we created memories to treasure forever!
Thank you Japie an Lizza.
Dave & Sandra, the Netherlands
Want to join the Adventure of a Lifetime?